IP Paging Solution
Adportas MessageKall is an IP paging solution designed to emit multicast audio and text messages for the Cisco VoIP environment. Messages can be emitted from IP telephones and IP or analog speaker networks. Message distribution can be live or using
preconfigured messages. Adportas MessageKall integrates transparently with Cisco telephony infrastructure.
Text and audio messages can be created, modified or programmed with flexible distribution from the administration portal, dividing these by zone, predefined schedules and days of the week, among others.
Integration with IP speakers (*) permits using speaker groups to configure independent paging zones, as well as the configuration of group combinations comprised of IP speakers and phones, allowing complete flexibility to modify, manage or eliminate paging groups from the administration web portal.
Adportas MessageKall is ideal for high public traffic environments such as hospitals, universities or industries.
Adportas MessageKall integrates transparently with analog amplification networks using an analog/IP audio signal conversor (**).
(* Optionally, Adportas IP Speakers can be integrated)
(** Adportas IPAC audio conversor can be optionally integrated)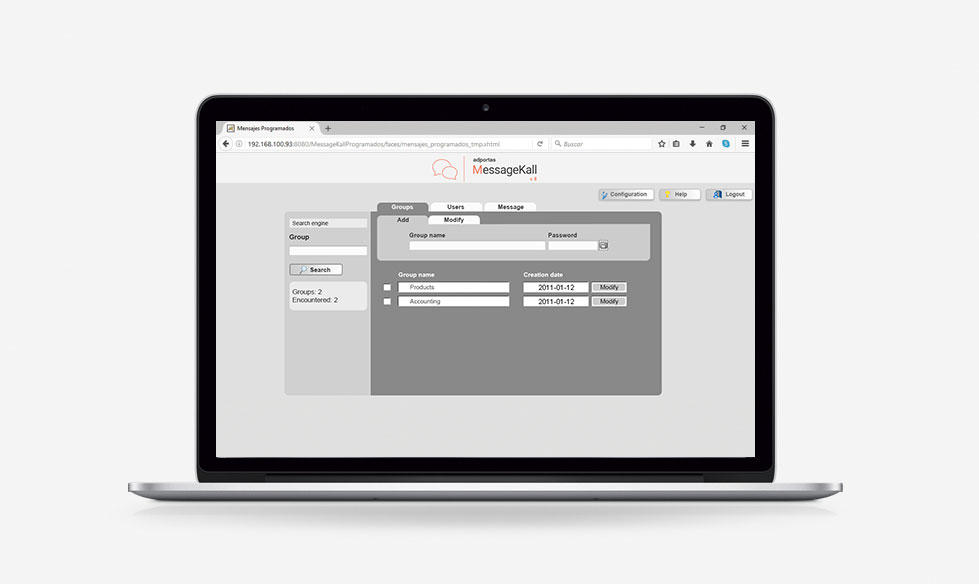 • Sends text messages to individuals or groups (VoIP terminals).
• Live or prerecorded voice paging support for all Cisco IP telephones with this feature.
• Cisco Jabber and Cisco Softphones support.
• Voice paging by dialing extensions or over XML service.
• Text paging over web interface.
• Scheduled prerecorded audio paging.
• Automatic conference support.

• Version: MessageKall 8.0
• CUCM COMPATIBILITY: VERSION 8.0 OR HIGHER
• Protocol: CTI / Multicast
• OS: LINUX CENTOS V.6 OR HIGHER
• User Interface: Web / HTTP
• Cisco IP Phone series 6900,7800,7900,8800,8900,9900 (ask for details)
• Virtualization
• Recommended minimum hardware: 2 GHz dual core processor/ RAM 8 GB/500 GB

• Cisco IP telephony platform, CallManager version 8 or higher.
• Application server (depending on technical evaluation).
• Multicast enabled internal network.
• Firewall: enable RTP, SSH, HTTP protocols and ports 16000, 25000, 8081, 80 and 22 between branch offices.