Call timer for corporate IP telephony
Adportas TimerKall is a telephone timer for outgoing calls that restricts and controls LDN, LDI or cellular calls placed from IP extensions registered in its database. Over the Adportas TimerKall administration interface, minutes may be distributed for these types of calls to groups (cost centers) or individual extensions. When the amount of predetermined minutes run out, the system will automatically disable calls placed from the given extension.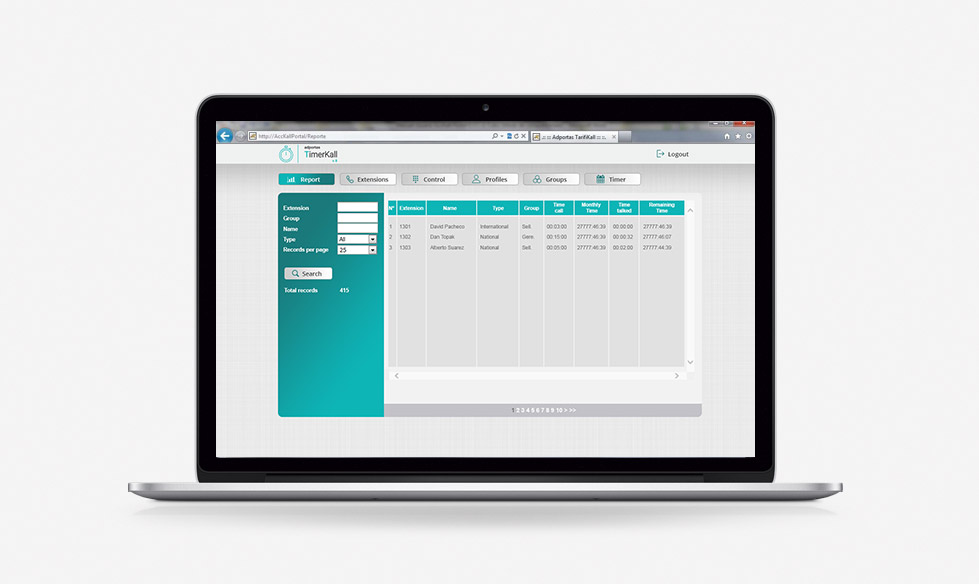 • Each call type can be limited individually, by group or collectively (CC).
• All calls can have a predetermined duration.
• All calls are automatically interrupted by a beep five seconds before the predetermined time is over, internally notifying the user over the headset.
• Each user is allowed a predetermined amount of calling minutes per month.
• Each user has a monthly bag of calling minutes which can be configured from the Adportas TimerKall web interface.
• Any number of extensions can be added, edited or deleted.
• The system displays each group's description, licensed extension number, designated time per call, maximum duration and total remaining time.
• Web interface view using filters such as extension, name, type, group, time per call, time per month, time used, time remaining.
• Each extension can be configured to a predetermined prefix including description and route pattern.

• Version nº: TimerKall 8.0
• CUCM compatibility: V.8 or higher
• Protocol: CTI/AXL/XML
• OS: Linux CentOS version 6
• User interface: WEB/HTTP
• High availability: Yes
• Recommended  hardware (minimum): 2 GHz dual core processor/ RAM 8 GB/500 GB
• Cisco IP Phone series: 6900, 7800, 7900, 8800, 8900, 9900. (ask for details)

• LAN network access for Adportas TimerKall server installation using same VLAN as Cisco CUCM.
• XML service activation for communicating with IP telephones.
• Creation of CTI application user in Cisco CUCM.
• Cisco CUCM version 8 or higher.