Adportas i2M Ethernet LTE-BPS is a data gateway that allows you to connect industrial equipment that have serial data communication ports (RS232 and / or RS485) and based on equipment in Ethernet communication, to the Internet via mobile network or WIFI. Its main uses are remote process monitoring, telemetry, telemetry and geolocation (through built-in GPS). This complex integrated network communications system was fully programmed, electronically designed and assembled by Adportas software and hardware departments thinking to offer the most cost-effective solution possible to our end customers.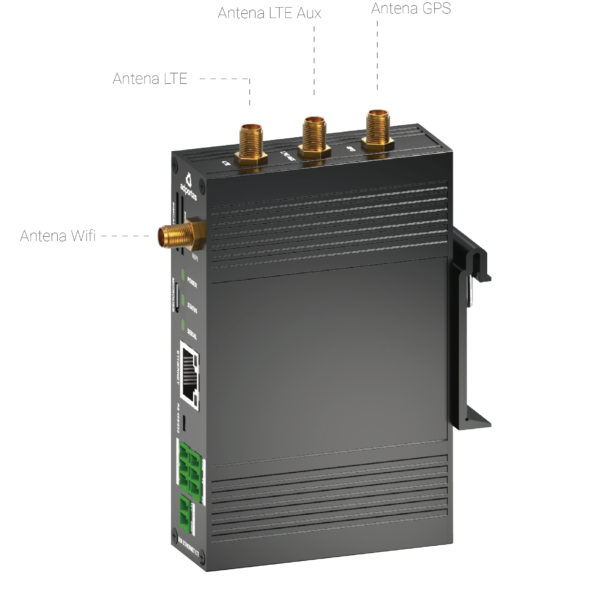 – TCP/IP transparent gateway – Serial.
– Works on all bands in South America (2G / 3G / 4G).
– Alerts in case of digital input status change (via text message or server messages).
– Web configuration portal in desktop and mobile versions.
– Graph of signal strength behavior in the last 24 hours.
– Daily restart of the team and loss of ping to the server.
– Georeferencing in UTM and Datum WGS84.
– Time configuration by mobile network, NTP and GPS.
– SNMP v2 and v3.
– SSH for remote administration.
– OpenVPN.

• Input voltage: 12VDC @ 1A.
• Serial communication: RS232 or RS485 (2400 to 115200 Baud).
• Wireless communication (mobile network): -LTE-TDD: B40 / B66
-LTE-FDD: B1 / B2 / B3 / B4 / B5 / B7 / B8 / B28
-MTS / HSPA +: B1 / B2 / B5 / B8
-GSM / GPRS / EDGE: 850/900/1800 / 1900MH
• Wireless communication (WiFi)
• WLAN Standard: IEEE 802.11 b / g / n
• Mode of operation: AP, STA
• Ethernet communication
Ethernet -10/100 Base-T with troller
-Ethernet IEEE 802-3, 802-2;
• Digital ports: 2 digital inputs 5-12vdc
• Serial operation selector such as RS232 / Rs485.
• Dual SMA connector for external 4G antenna. (Diversity, dual radio circuit)
• Number of supported SimCards: 2
• SimCard Format: Mini SIM (2FF).
• Configuration: via micro USB type B (UBS 2.0).
• LED indicators:
– Power: indicates that the equipment is turned on.
– Status: indicates whether or not you are connected to the network.
– Serial: indicates if there is activity on the serial communication bus (RS232 and / or Rs485).
• Operating temperature: -15°C to 85°C.
• Installation Type: Wall Mount with DinClip.