Adportas i2M mini v.2
Adportas i2M Mini is a data gateway that connects industrial equipment that has serial data communication ports (RS232 and / or RS485) to the Internet through the 3G mobile network. Its main uses are remote monitoring of processes and / or sensors, telemetry and geolocation (through built-in GPS).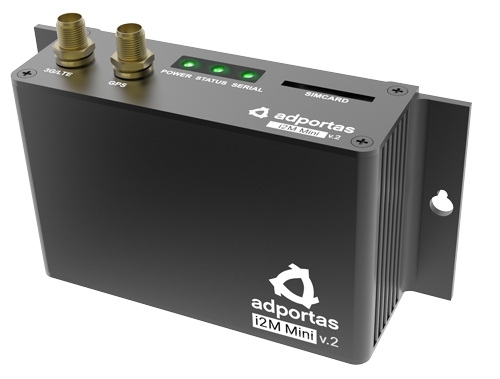 • Adportas i2M Mini is a transparent bridge between the end user and the connected device, as it does not involve an external server to establish communication, allowing it to be accessed directly from a private mobile network.

• Adportas i2M Mini port allows remote configuration of the connection´s data (APN, Serial, GPS) as well as obtaining the location of the device when it is needed.

• Housing: Black anodized aluminum.

• Product Dimensions in millimeters:104,4 x 28,3 x 63,5.

• can be remotely reseted via text message (SMS) if necessary.

• Input voltage: 12VDC @ 1A.
• Serial communication: RS232 or RS485 (from 2400 to 115200 Baud).
• Wireless communication: 3G (Dual-Band UMTS / HSPA + 850 / 1900MHz).
Quad-Band GSM / GPRS / EDGE 850 / 900 / 1800 / 1900MHz.
• Selector that allows you to choose whether the serial port will work as RS232 or RS485.
• SMA coaxial connector for external 3G antenna.
• Number of SimCards supported: 1
• SimCard Format: Mini SIM (2FF).
• Configuration: via micro USB type B (USB 2.0).

• LED Indicators:
– Power: Indicates that the machine is on.
– Status: Indicates whether or not you are connected to the 3G network.
– Serial: Indicates whether there is activity on the serial communication bus (RS232 and / or RS485).

• Operating temperature: -15°C to 85°C.

• PCB Material: FR-4.

• Type of installation:
– With screws.
– Optional: Din Clip for installation of rails.

Refrigeration

Adportas i2M mini, can be used for serial transmission of status data for industrial refrigerators.
This way you can obtain the critical information (engine status, temperature, open / closed door, light, etc.) without the need of a constant face-to-face check up.