Adportas i2M PRO-1
Adportas I2M Pro-1 is a robust IoT gateway with cellular communications capabilities developed for the interconnection of systems and machinery to the internet, remote management, automation and telemetry in general.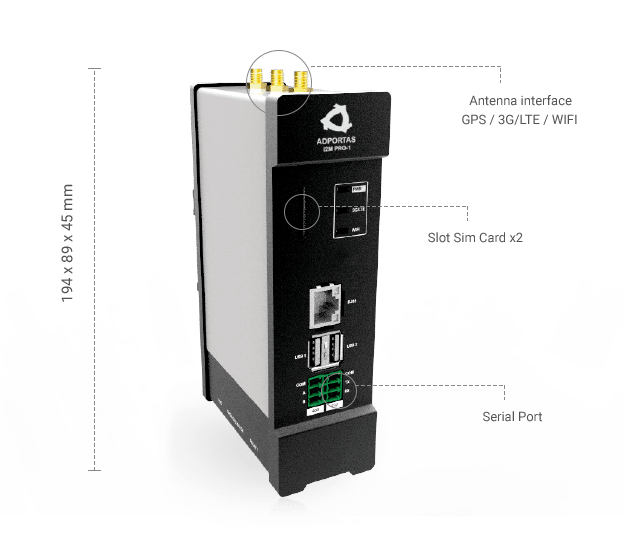 3G/LTE (cellular parameters)

• Cellular:
 UMTS/HSPA+/EDGE/GPRS/GSM. Standard and frequency bands: Dual-Band UMTS/HSPA+ 850/1900 MHz.
• Quad-Band GSM/GPRS/EDGE 850/ 900/1800/1900MHz.

Specifications for data transfer:

HSPA + 
Max. 14.4 Mbps (DL), Max. 5.76 Mbps (UL).
WCDMA Max. 384 Kbps (DL), Max. 384 Kbps (UL).
EDGE Class:
 Max. 236.8 Kbps (DL), Max. 236.8 Kbps (UL).
GPRS
 Max. 85.6 Kbps (DL), Max. 85.6 Kbps (UL).

Modem certifications SIM5360A: • FCC.
• ROHS.
• REACH.

GPS

Specifications:

CELL assistant Location. A-GPS: MS-Based, MS-Assisted. Stand-alone GPS. QUALCOMM XTRA GPS mode. GLonass.

WIFI

Type:
 Dual-band 2.4 GHz and 5 GHz IEEE.
802.11 a/b/g/n.
IEEE 802.11n single current.

Supports standard SDIO v2.0 and gSPI (48 MHz) host interface.

Security: 
WPA y WPA2 (personal) encrypting support and long range authentication.
 AES in WLAN hardware for faster data encryption and IEEE 802.11i compatibility.

Modes: client and access point.

 

SoC: double core CPU at 500 MHz and 32 bits.
RAM: 1 GB memory LPDDR3 POP (2 channels 32 bits @ 800 MT / seg).
Ash storage: 4 GB eMMC (v4.51 specification).
Video: Cedar Engine multimedia processing unit with up to 2160p video decoding capability (3840×1080 @ 30fps 4k or 1080p 3D decoding), with integrated HDMI 1.4 output support and 1080p 30fps H.264 HP (high profile) for video encoding.
Audio: Integrated 100dB HI-FI audio CODEC 100dB with double noise cancelling MIC.

Standard power supply: 12V/1A

Reverse current protection

OS: Ubilinux (Adportas system)

Tx current:
 Average current: 
240 mA @ +12 VDC; Instantaneous current peak: 800 mA @ +12 VDC

Standby current:
 Average current: <150mA @ +12 VDC

Operating humidity range: <60% Relative humidity

Operating temperature range:
-25°C to 60°C // Battery charge occurs only between 10°C and 45°C to comply with JEITA specifications for Lithium-Ion or Lithium Polymer batteries.